PARENT EFFECTIVENESS TRAINING: FEWER POWER-STRUGGLES, LESS TENSIONS, LESS RESENTMENT AND MORE PEACEFUL FAMILIES
Next session starts Wednesday, Jan. 24, 2024. Calling all parents! don't miss this wonderful opportunity!
CLICK HERE to register today!
Image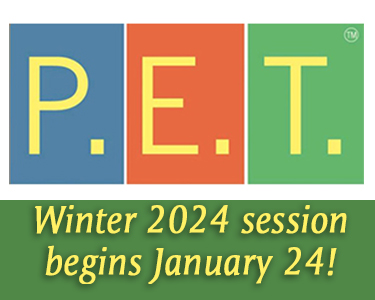 WHAT IS PARENT EFFECTIVENESS TRAINING (P.E.T.)?
Whether you're the parent of a toddler or a teenager, you know that parenting can be challenging–even overwhelming at times. Unfortunately, children don't come with an instruction manual. And, being a parent doesn't always mean that you automatically or instinctively know what to do. Parent Effectiveness Training (P.E.T.) offers proven communication skills that really work. When they use these skills, parents are amazed with the dramatic improvement both in their families and in all their relationships.
HOW YOU AND YOUR FAMILY WILL BENEFIT
Your children will feel free to discuss their problems and concerns with you instead of withdrawing.They will learn self-discipline, self-control and an inner sense of personal responsibility. You will learn how to work with each other instead of against each other. You'll experience fewer angry outbursts and more problem-solving. Everyone can participate in rule-setting so all will feel motivated to comply with the rules. Fewer power struggles–less tension, less resentment, more fun, more peace, more love.
WHAT YOU WILL LEARN
The four basic skills every parent needs are:
1. How to talk to your children so that they will listen to you.
2. How to listen to your children so they feel genuinely understood.
3. How to resolve conflicts and problems in your family so that no one loses and problems stay solved.
4. A method for troubleshooting family problems and knowing which skills to use to solve them.
WHO SHOULD ATTEND
P.E.T. is for parents of children of all ages. Naturally, special considerations have to be made for pre-verbal children, which is covered in the workshop.
CLASS DETAILS:
PET starts Wednesday, January 24, 2024 and runs 8 consecutive Wednesdays from 6:30-9pm in the Flavin Room (basement of the rectory, enter on the outside stairwell on the east side of the rectory, just north of the Sharing Room).
ABOUT THE INSTRUCTOR
Back by popular demand, pediatrician Liz Swider, MD is partnering with fellow P.E.T. certified instructor Margaret Pasquesi to once again offer this internationally renowned parent training to the North Shore.