Capital Campaign - To Teach Who Christ Is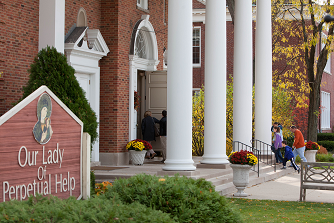 Throughout the Archdiocese of Chicago, parishes have been participating in this important campaign to benefit our communities for generations to come. Each parish has been assigned a campaign target. Parishes will keep 60 percent of all funds they raise for needs they identify, and will share the remaining 40 percent with other parishes to fund scholarships for Catholic Education both in schools and Religious Education Programs. This campaign will impact Catholic Education throughout the Archdiocese for the benefit of many children. 
Parishes exceeding their goals will receive 100 percent of funds collected above their target. We will have sole discretion on the direction of the funds we raise. 
OLPH Project priorities include:
Convent transformation into Parish Center including new space for meetings and a youth ministry center
School upgrades and investments including STEM labs
Campus safety needs and upgrades including replacement of the crumbling steps and plaza in front of our church
Church Improvements including a complete renovation of McDonnell Hall
To support parish efforts, the Archdiocese is paying for all campaign fees and expenses.
Learn more about the Campaign: