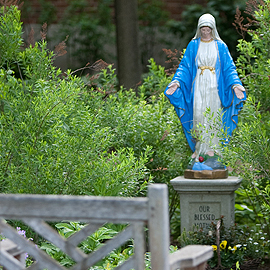 PLEASE NOTE: During the Covid pandemic, our normal procedures have been suspended, please call the Parish Office at 847-729-1525 for more information.
Anointing of the Sick
The Sacrament of the Anointing of the Sick is for people who are facing major surgery, serious illness, chronic illness, and aging. The Church recognizes that people need the healing and strengthening power of Christ in these difficult times.
The Sacrament of Anointing of the Sick benefits both the sick person and the community by allowing all of us to show our concern for the sick among us and to remind them that they are never alone.
Who can receive the Sacrament of the Anointing of the Sick?
Those whose health is seriously impaired by sickness (including mental illness) or old age
Those about to undergo surgery because of a serious illness
Those who are elderly and weakened by age, even if there is no serious illness
Sick children who are mature enough to be strengthened by the Sacrament
You may receive the Sacrament any number of times in your life.
Our Lady of Perpetual Help offers the sacrament of the anointing of the sick once per month at the 8:30 am Saturday liturgy.
You may also make an appointment with one of the priests. Please call the receptionist at the Parish office at 847.729.1525.