Liturgical Art & Environment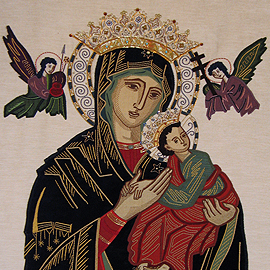 Members of the Liturgical Art and Environment Committee set a mood that invites participation in the mystery of the liturgical event. In fulfilling this purpose, we take into account the liturgical seasons, the readings, feast days, and Parish celebrations. Our goals are to use meaningful symbols that foster attention on the actions of the liturgy, to decorate without distracting, and to create new mediums while respecting traditions of the past.
We are attentive to both the upper and lower churches; the spaces we use include the altar, sanctuary, body of the church and vestibule, as well as the entrances and grounds.
The Committee has been blessed with diverse talents. Our creative members translate the themes of season and liturgy into creative visual art, utilizing symbols, colors and shapes to this end. We have talented floral arrangers, seamstresses, and plant care-givers. Still others organize schedules and materials or write features for the Parish bulletin that explain seasonal artwork and symbolism.
Our History
The Committee formed in the mid 1980s when Fr. Dan Sullivan put out a call to service for seamstresses who could sew vestments and stoles. The group quickly grew and took on ambitious aesthetic projects. In 1989, the Committee acquired the tapestry depicting Our Lady of Perpetual Help that now adorns Our Lady's Chapel. The group updated McDonnell Hall for Sunday liturgies by making numerous improvements that enhanced the space. In 2003, the interior of the church was redecorated in honor of the church building's fiftieth anniversary. Mary Foley, an interior designer and valued member of the Committee, consulted with professional decorators to choose new paint colors and oversee many details of the project.
Become Involved
The Liturgical Art and Environment Committee welcomes other interested parishioners to join us in keeping the church beautiful. Please contact Barb F.at  847.657.0316 if you would like to volunteer your time and talent with us.