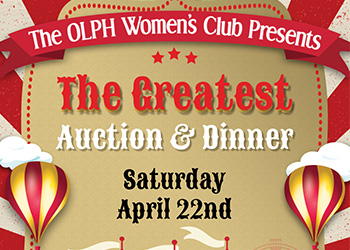 Mark your calendars for Saturday, April 22 and dust off your dancing shoes for a fun evening of bids, dinner, and dancing! 
The Women's Club is excited to announce a new Parish event coming this Spring!  The OLPH Women's Club Spring Auction & Dinner! 
6:30pm - 9:30pm, Saturday, April 22
Glen View Club, 100 Golf Rd. Golf, IL 60029
Tickets and bidding registration are now live at https://one.bidpal.net/olph 
But before we get there - we need your help!  We are looking for donations for our Auction! 
While Guilds will be submitting auction items, we are also asking individual donors to contribute items or sponsorships.  Please review the auction item list in the Sign-Up-Genius link and if you have any questions or would like to donate items not listed, please contact Jen Farr at OlphSpringAuction@gmail.com 
Spring Auction & Dinner Sign-Up Genius: