Parent Effectiveness Training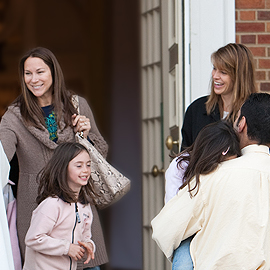 Parent Effectiveness Training is Back!!
Boomers, remember when you took P.E.T. with Fr. Paddy Tyrrell back in the 1980s? Consider gifting your children the gift of P.E.T., along with the offer to babysit your grandchildren while their parents are in class!
Parent Effectiveness Training (P.E.T.) offers proven communication skills that really work. When parents use these skills based on a curriculum designed by three-time Nobel Peace Prize nominee, Dr. Thomas Gordon, they are amazed at the dramatic improvements in their families and in all their relationships.
Coming out of the pandemic, parents are seeking new ways to connect with their children. Back by popular demand, pediatrician Liz Swider, MD is partnering with fellow P.E.T. certified instructor Margaret Pasquesi to once again offer this internationally renowned parent training to the North Shore.
You, too, can learn these powerful, time-tested, proven skills.
New class begins Jan. 25, 2023
Register today! PET_OLPHGlenview.eventbrite.com
A Skills Course For Parents
Do you want to be a better parent to your children?
Parent Effectiveness Training (P.E.T.) is a course designed to teach you the philosophy and communication skills needed to improve and enhance the quality of your relationships with your children.
In P.E.T., you will learn to:
Help your children solve their own problems
Confront your children's unacceptable behavior
Resolve conflicts between you and your children
Listen so your child will feel understood
Communicate clearly so your children will understand you
Establish family rules everyone in your family will follow
Resolve conflicts so nobody loses
Parent with a philosophy that is neither permissive nor authoritarian
Become the person your children confide in when they encounter worries or difficulties
Parent Effectiveness Training also explores these important parent/child relationship skills:
Understanding relationships with children
Learning to help your child
Communicating to meet your needs
Resolving conflicts
Preventing problems
Handling values collisions
Through OLPH more than 3,500 individuals have benefited from the skills they have learned in these classes.