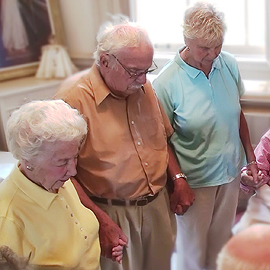 Ministers of Care bring the Eucharist to those parishioners who are confined to their homes, hospitals, or nursing homes. They also make pastoral visits; Ministers of Care pray with, support, and comfort parishioners in need and their families. Ministers of Care are caring and prayerful men and women who care for our sick parishioners.
Join the Ministry of Care
If you feel that God might be calling you to this important and compassionate work of the Church, please call the parish office at 847.729.1525 and leave your name with the receptionist. 
You can also fill out our online volunteer form. We will keep you informed of upcoming training sessions for new Ministers of Care. Ministry of Care website