OLPH Engagement Ministry's Renew My Church (formerly Transformation) Team will present six episodes of Bishop Robert Barron's "Catholicism" video series.  Beginning February 3, 2019, we will meet for six Sundays at 2:00 pm in Hickey Hall to view a different episode.  This highly acclaimed and beautifully produced video series celebrates the extraordinary history of the Catholic church. Each program is approximately 50 minutes. There will be a short discussion after each presentation.  This series is open to all.
Here is the lineup:
Feb. 3:
Episode 1: "Amazed and Afraid - Revelation of God
Become Man."  
Feb. 10
:
Episode 2: "Happy We Are – the Teaching of Jesus"
Feb. 17
:
Episode 3: "The Ineffable Mystery of God – That
Than Which Nothing Greater Can Be Thought"
Feb 24:

No showing due to Ministry Appreciation Mass
March 3
:
Episode 4: Our Tainted Nature's Solitary Boast –
Mary, the Mother of God
March 10:
Episode 5: "The Indispensable Men – Peter, Paul
and the Missionary Adventure."
March 17:
Episode 6: "A Body Both Suffering and Glorious –
The Mystical Union of Christ and the Church"
This past year, Transformation became a formal part of the Engagement Ministry at OLPH, assuming some of the work of the emerging Renew My Church initiative. The goals and spirit of the Transformation program remain the same and, in this case, the effort is to reach a multigenerational audience.  The presentation of this award-winning video series was one of the early goals of the Transformation team.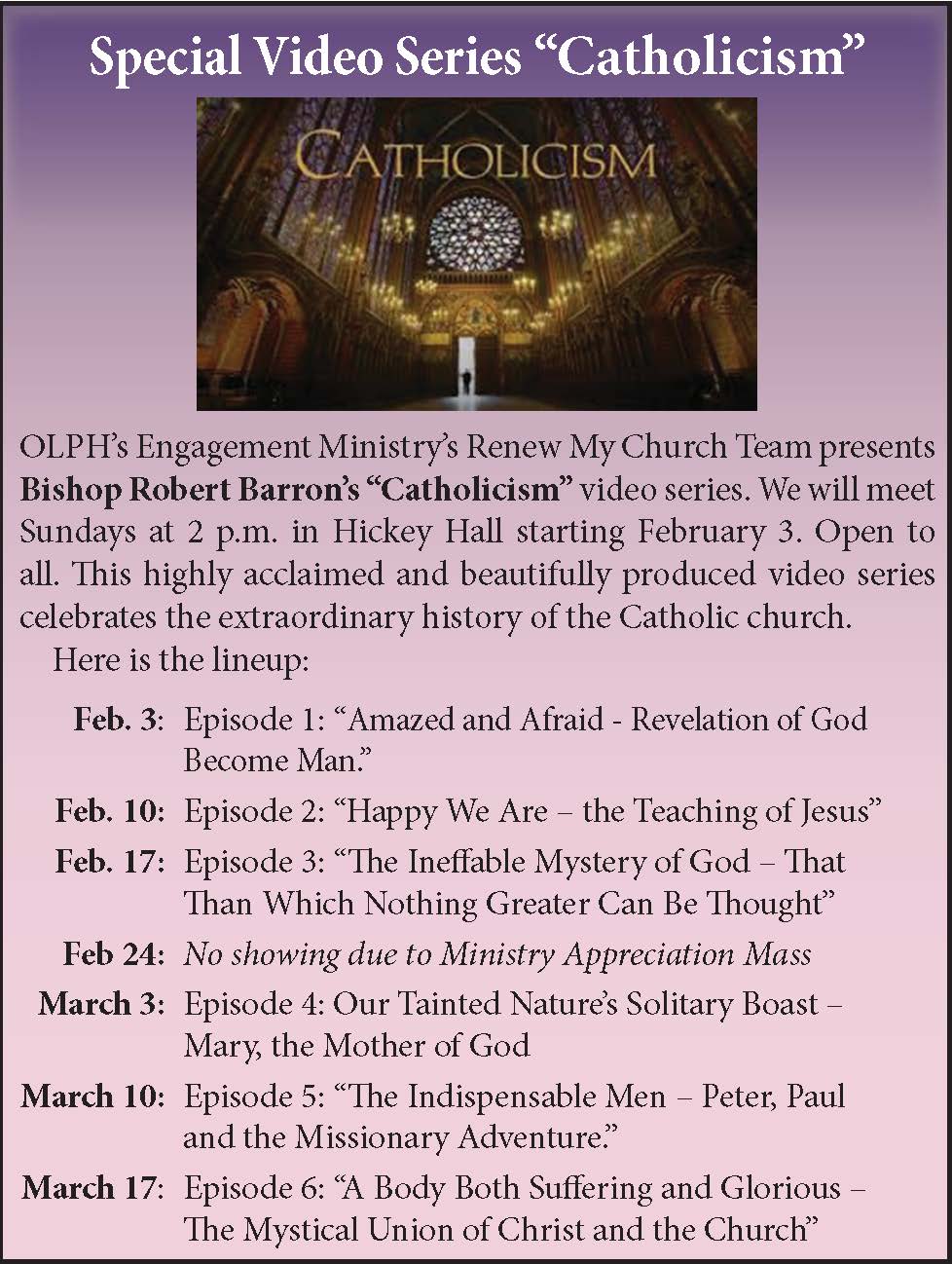 Event date
-
-
-
-
-
-
-
-
-
-
-
-
-
-
-
-
-
-
-
-
-
-
-
-