The 2023 OLPH Lenten season begins with Ash Wednesday, Feb. 22.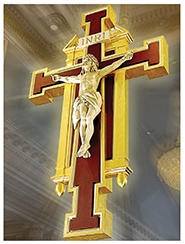 Our theme this year is "Turn Toward the Light of Christ."
CLICK HERE for our Lenten Season and Easter Sunday Mass Schedule.
CLICK HERE for our Lenten Calendar which is a two-page downloadable pdf listing all parish events from Ash Wednesday through Holy Saturday.
CLICK HERE to order flowers from our Memorial Flower Sale in memory of a loved one. The flowers will be placed on the altar during Easter time.
The 2023 OLPH Lenten Mission will be held 9:00am, Sat. Mar. 25., continuing our reflection on how light can turn us to the Lord.
This event hosted by Fr. Larry Basbas will feature a panel discussion with working artists right here in our midst at OLPH. They include:   
Musician/Composer Russell Stern
Film Documentarian Rob Orr
Writer Margie André
Visual Artist Terry Luc
Below is a short promo of the event. This should be a really interesting and inspiring discussion. We encourage all parishioners to join us, including young adults and teens who are interested in the arts.