Registration is now open for OLPH Totus Tuus 2023 – Summer Youth camp, the week of July 23rd!
Totus Tuus is a Catholic Youth program dedicated to promoting the faith in a fun &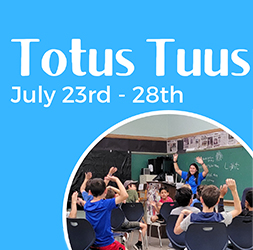 engaging way! All 1st - 12th graders are invited to attend this exciting week-long experience here at OLPH!
Grade School Program The grade school program begins Monday morning, July 24 through Friday July 28 from 9:00am to 2:30pm. During the week, children entering 1st grade through 6th grade in the upcoming school year participate in four classes each day, attend daily Mass, learn the parts and liturgical songs of Mass. Totus Tuus brings your children to Jesus through Mary, packed with fun, skits, silly games, and so much more.
Junior High Program The junior high and high school program begins Sunday evening, July 23 through Thursday, July 27 from 7pm to 9pm. Totus Tuus offers an evening program for junior high and high school students enrolling in 7th through 12th grade in the upcoming school year. The program includes instruction, small group discussions, prayer, fellowship and so much more.
The program fee for students in 1st – 6th Grade is $60/student and $20/student for those in 7th – 12th Grade. The program fee includes all supplies your student will need throughout the week and a t-shirt!
CLICK HERE to register today!