On Saturday Sept. 23 at 9:00am in McDonnell Hall, join us for an interfaith conversation between Scott C. Alexander, PhD and Syed Atif Rizwan, PhD of Catholic Theological Union.
The event will start with coffee and light refreshments at 9:00am and then a welcome by Fr. Jim Barrett. There will be a Q&A session following the talk.
Livestream available here: https://vimeo.com/event/2850914 but in-person attendance is encouraged.
Image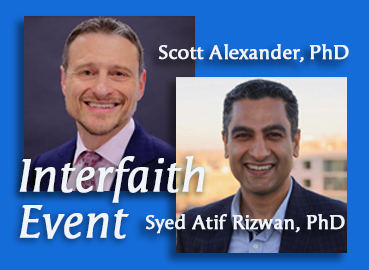 ABOUT the CATHOLIC-MUSLIM STUDIES PROGRAM
Founded in 2000 and rooted in the sacred teachings of the Gospel of Jesus Christ and the Holy Qur'ān, the Catholic-Muslim Studies Program educates and trains dynamic scholars and leaders who can effectively promote mutual understanding, reconciliation, and cooperation between Muslims and Christians, in order to advance justice and compassion in the human family.