Birthday Bash Birthday Giving Project
2:30-4:30pm Saturday, Feb. 4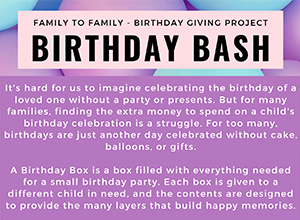 Join us on Saturday, Feb. 4 with other OLPH parish families in McDonnell Hall as we assemble Birthday Boxes. enjoy music,and play birthday party games.
A Birthday Box is a box filled with everything needed for a small birthday party. Each box is donated to a different child in need.
Help us prepare for this event by donating items through the month at the Religious Education office.